Board Name: =w=Rivers
Real Name: Joe Monitto
Location: Long Island N.Y
Age: 17
Bio: Been playing guitar 4 years now, but still suck! Thats all I really have to say...
Bands: DS33, C-Rag and the Inbetween, The Cheated
3 Favorite Bands: Nirvana, Weezer, Marilyn Manson
Web Site: www.weezequip.cjb.net
Hobbies: Guitar, Snowboarding, Mountain Biking, this website.
Equipment:
Guitars:
1999 Fender American Deluxe, with a Seyour Duncan Hot Rail in the bridge and Vintage Noiseless Single coils mid and neck. Black with aged white parts, chrome hardware.
2001 Ibanez AX120. Stock. Antique Bronze.
1999 Japanese Fender Jazz Bass, Black with white parts.

Amps:
2002 Mesa Boogie Singe Rectifier thru a Marshall 1962 2x12 3/4 sized cab.

Effects:
Cry Baby Wah

Thats it for me!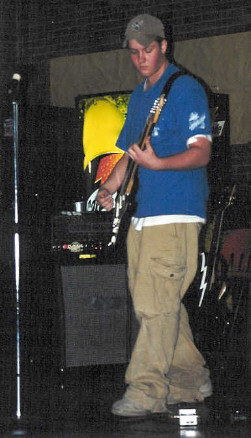 =w=Rivers